The 10. Workshop of Camposaz took part in San Ginesio, a small town in the province of Macerata, Italy. Due to its location in the Sibillini Mountains, it is called "the balcony of Sibillini".
The workshop was organized in an area that has suffered material and social damages because of the latest earthquake in the Apennino Umbro-Marchigiano region. The aim was to create a new meeting point for the people, who are living in the town. 
We created two different structures in the main park of the town.
One is in the entrance of the park, it has multifunctional use, as stage, relaxing zone and fountain. The other one is at a place with a fantastic mountain panorama, it is used as a viewing platform, out of different levels to sit, stand and relax on. We also built a new fence to a tower, which is still in danger of collapsing, to integrate it in the walls of the park. Because the fence is still necessary the viewing platform is high enough to look over it and give the opportunity to enjoy the panorama and take a short time out of the current situation of the town.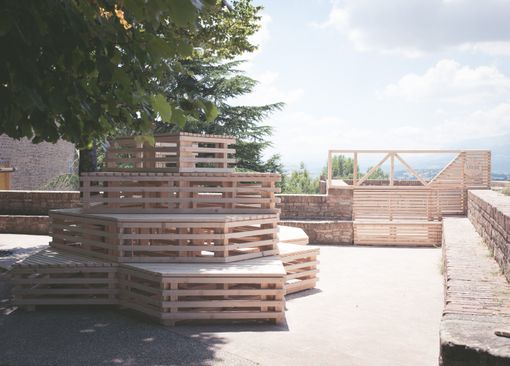 © Valentina Baldelli / Simone Giacomoni, collettivo Re-public